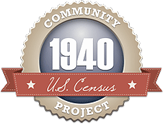 View Census Images Free!
Archives.com makes searching the 1940 census quick and easy. Best of all, it's free! Enter a person's name to the left, and click 'Search' to get started. You can search, browse, and view census records anytime. Our advanced search capabilities will help to narrow your results making it easier to find the right person. The 1940 census is right at your fingertips, so get started now!
Search the Census
Find Your Family in the 1940 Census
The entire collection of 1940 census
images is available on Archives.com.
You can also visit the website we built
for the National Archives to host
the census.
1940census.archives.gov »
Get Involved
Become a Volunteer
Just because the 1940 census indexing
project is complete, doesn't mean that the mission is over. We still encourage
you to help digitize other historically significant records.
Become a volunteer »
Journey Through American Family History Using the United States Census.
The first federal census was conducted in 1790, when America was beginning to grow as a country just after having gained independence from the British Empire. Over the course of the next 220 years, 23 censuses have collected tons of data and statistics giving us a tremendous look into the evolution of American life.
Learn More »
Search the Database
Please correct errors marked below